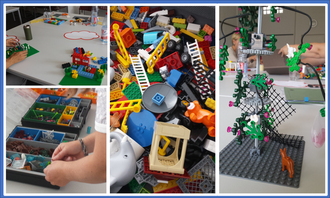 Have you heard of LEGO SERIOUS PLAY and asked yourself what that is? 
Are you curious to know more about it?
MULTISENSING+ in collaboration with and hosted by the BUSINESS CLUB FRANKFURT TOASTMASTERS will be moderating a Lego Serious Play workshop on January 27th, 2018 in Frankfurt!
This workshop will give you the opportunity to discover the Lego® Serious Play® methodology and not just that!
In the 4 hours we will spend together, you will take a deep dive into the world of Leadership 'today' and gain reflections about Leadership for 'tomorrow'. By building individual models and sharing stories, you will discover and be surprised by the richness of the output gained through this 'design thinking' methodology! 
What will you gain?
A profound understanding about 
- how emotional engagement focuses attention
- the power of using metaphors 
- the advantage of spatial orientation and change of perspective
- unlocking the subconscious mind (imagination)
- enhancing communication effectiveness
- changing 20/80 meeting to 100/100 engagement
and all that while having fun!
Important Details:
- Date: January 27th, 2018
- Time: 2 possible workshop sessions, max. 12 participants each
   a) 9.30am - 1.30pm, or  
   b) 2.30pm - 6.30pm (only few seats left!)
- Location: Saalbau Griesheim (Frankfurt)
- Registration: Business Club Frankfurt Toastmasters (membership_bcft@yahoo.com)
- Costs: 45€