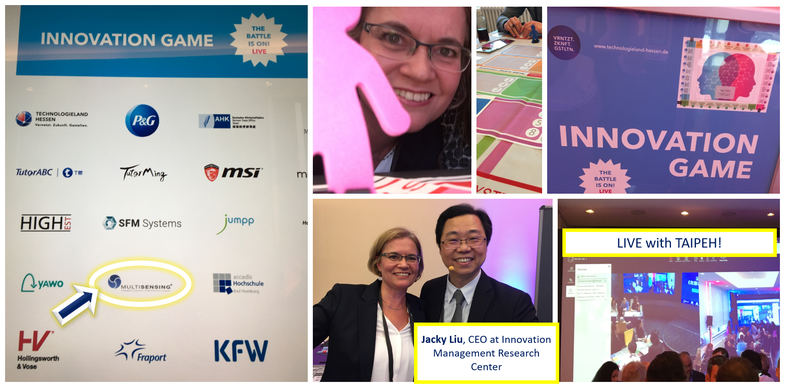 All who know me, know that I am always alert when it comes to discovering new ways of challenging ourselves with fun!
Activating the senses, processing serious work while having, this is what I am increasingly aiming for.
Why? Because I am convinced that this is one way to help reducing stress in our business world, while not losing on quality. 
So when I saw the possibility of participating to something I had never heard of before, I didn't have to think one second.
Thank you to Jacky Liu and his powerful team for the great opportunity of discovering his INNOVATION GAME at the 2. Innovation Congress in Frankfurt! The live-battle with Taipeh was amazing...even though we lost ;)
This game is all about gathering new ideas in teams, for & against (own) teams but for the sake of taking a product idea further, deeper while adding an innovative edge. Not only great fun, it really helps engaging innovative thoughts, while bouncing on new ideas back and forth.
How? In my opinion, it is great at activating innovation in opening the senses of curiosity, rapidity and creativity while actively engaging the sense of sight, movement, touch and communication.
I am looking forward for this coming to Europe soon!
#innovation #Frankfurt #gamification
MULTISENSING+
Agnès Wiegand,
Sensory Branding Consultant | Researcher | Insights Expert
Certified Lego® Serious Play® Facilitator